The PASI on "Numerical Methods and their Application in Bioengineering" is an intensive course in advanced numerical tools and their application to bioengineering applications. The topics will include an unusual combination of finite element, boundary element and discrete element methodologies in a single framework; a combination rarely encountered in a traditional university course. Although participating students may already have had some exposure to these topics at their home universities, this workshop will take the knowledge to a higher level, including hands-on sessions in computer labs provided by the host university.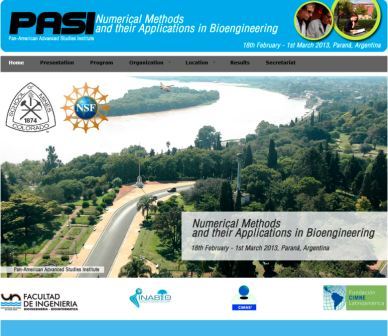 Área(s) de investigación:
Numerical Methods, Bioengineering.
Investigadores:
Miguel Cerrolaza, Ing. Civil, Dr. I.

José Dipaolo, Ing. Mecánico, Dr. I.

Vaughan Griffiths, Ing. Geo, PhD.
Entes participantes:
Instituto Nacional de Bioingeniería.
Universidad Entre Rios, Argentina.
Colorado School of Mines, USA.
Financiamiento:
CIMNE
National Science Foundation, USA.
UNER, Argentina.
Follow me!